Upcoming Events
(All times ET unless noted)
Aug. 26, 2-3 p.m. – Women's Equality Day Women Veteran Discussion
Aug. 30, 7-9 p.m. – VETtoCEO Program
Aug. 31, 11 a.m.-2 p.m. – Virtual Franchise Conference
Aug. 31, 12-4 p.m. – Virtual Job Fair
Aug. 31, 12-1 p.m. – The Diverse Experience of Military & Veteran Families of Color
Aug. 31, 3-4 p.m. – Heroes MAKE America – Heroes Connect
Free Entrepreneurship Training for Veterans
Warrior Rising's Veterans Business Accelerator Program is facilitated by successful small business owners who are also Veterans. Join a group of fellow Veterans who are either exploring entrepreneurship as a career path choice or already have active small businesses and want to learn more.
Who Qualifies for VA Dental?
In this episode of theSITREP, learn the nine ways Veterans can qualify for VA's Dental Program.
Win $1,500 to Spend on NFL Tickets
Complete any purchase or create your ShopVCS account for a shot at $1,500 towards NFL tickets of your choice. Official rules.
Improvements to Airborne Hazards and Open Burn Pit Registry
VA is working to improve the Airborne Hazards and Open Burn Pit Registry questionnaire. Veterans can now return to a completed questionnaire to add deployments or update health information. In addition, you can skip entering details on short deployments. After you complete the questionnaire, VA will contact you to schedule a free health exam, if you choose to have one.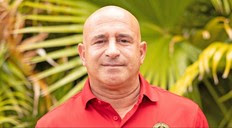 9/11 Survivor 900,000th Veteran in Million Veteran Program
Greg Amira, a retired Army Reservist, Purple Heart Iraq Veteran and 9/11 survivor become the 900,000th Veteran in the Million Veteran Program. The program helps researchers learn more about diseases affecting Veterans.
Bridge My Return Helps Former Helicopter Pilot Return to Aviation Operations Career
Bridge My Return (BMR) is a tech-enabled hiring platform exclusively for the military community. Read how BMR helped a former Afghan helicopter pilot return to the industry he loves.
Veteran Jobs
Hero's Bridge - Resource Development Director - VA
Quorum Architects - Multiple Roles - TX
Millennium Enterprise Corporation - Executive Assistant - VA
Detention Officer - Lumpkin, GA
Inventory Associate - Parker, CO
Event Technician - Multiple Locations nationwide
HR Specialist - Remote
Change Management Thought Leader - DC Hybrid
Senior DevOps Engineer - Remote
Electrical Assembly Mechanic Lead - Woodinville, WA
Assembly Mechanic - Woodinville, WA
Field Service Engineer in San Francisco, CA & Madison, WI
Quality Manager - Mason City, IA
130+ more opportunities for Veterans and Military Spouses
Post a free job to RallyPoint's community consisting of nearly 2 million Veterans, spouses, caregivers and survivors.
Win $100 Gift Card by Answering the Following Question:
Armed Forces Gear 10% off eligible items online with Troop ID. Available for active duty, Veterans, Reservists, National Guard, retirees, spouses and dependents.
Sunglass Hut 15% off discount.
Fire Department Coffee 15% discount for life using discount code "MIL15".